Unique Results exists to provide a supportive, passionate community for men and women. We help them to unlock their potential and feel healthy, look healthy and be healthy with fun, like minded people
Established in 2007 we have grown to become recognised within the fitness industry for delivering high quality results and service through expert coaching, support and accountability in a family like environment you'll love.
We recognise where big gyms are letting normal people down & specialise in working with people who are 40+ years old.
We give more personal attention & know everyones names.
We have no membership cards or turnstiles & our membership is capped at 300.
Our team are older, more experienced and more highly qualified than you will find anywhere else.
Our focus is more on health and longevity than lycra and sixpacks and we are creating a really friendly community where members know and talk to each other and are very welcoming, supportive and encouraging.
It's a very different place than you will have ever experienced before.
Welcome to Unique Results!
Dave Roscoe
Age 64 – Retired Technical Manager
You have got a great right hook, the young man said as I pounded my glove into the pad. My heart beat was probably 130 plus and I never felt fitter in my life; that was last night at the gym in the boxing class.
Never felt fitter, that made me think. Hard to believe but for sure I am fitter now than I was at 32, half my current age! I have recently retired and it has given me more time to work out at Unique Results, doing classes for boxing, Pilates and at least one personal training session per week.
I get a real buzz from the workouts mainly now with James, Mark and Nigel. They all have the knack of getting something extra from each member, even when some of the classes are a real mix of abilities and experience; each of us is made to feel special and that the effort is worth it. And it is an effort; it would be so much easier to slump in the armchair munching crisps and watching TV. But my recent retirement and difficulties in my life have really made me think. There is so much more in life for me to enjoy and most of it relies on good health and a certain amount of luck.
So my cunning plan is to keep fit enough to enjoy the rest of my time on this planet, and the sessions at Unique Results are a big part of that plan. And maybe, the more I workout, the luckier I will get.
Sue Campbell
Age 55 – Financial Services
I have been training with James at Unique Results for around 15 months and the results have exceeded expectations. The training and support has motivated me to achieve a personal best at 10k and extend my distance to 10 miles. I'm at my lightest weight since 1995!
No matter what challenges life sends my way, my personal training sessions always give me a boost and the extra motivation to meet the next goal.
UPDATE: Sue  has recently completed her half marathon.
Sue King
Age 51 – Pharmaceuticals Executive
I have been coming to Unique Results since 2007 and at the time was not very fit, probably a little overweight, and wanted to increase my stamina. I started my sessions with a target of 5K and a date for completion which still felt unobtainable but all the training is designed to encourage you to get to your target but never in such a way that you feel you are being pushed beyond what is possible for you.
Slowly, and with great patience, James got me to believe that anything is possible if you believe you can do it. Once you have a target all you need to do is work out what you need to do to get there. It really is that simple. I have now reached my fiftieth year on this planet and this year I have completed my first Olympic distance triathlon. If I can achieve this, coming back into sport late in life, then I truly believe anyone can do it.
All of this would not have been possible without the belief you gain from the training process at UR and the companionship that is created by James in encouraging so many of us to enter events as a group. The strangest thing is that I always thought running would be a lonely activity but the ethos applied at UR, and the family atmosphere, means I have a new set of friends who all have similar interests and goals and are supportive of each other. Beyond the physical activity I have learnt much about myself and that all things are achievable with hard work and belief.
DISCOVER HOW TO START YOUR OWN SUCCESS STORY WITH OUR FREE GUIDE
Read about the 5 steps you need to take in order to FEEL healthy, LOOK healthy & BE healthy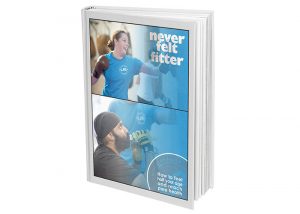 To get your FREE copy of 'Never Felt Fitter' just enter your details in the boxes below...