This blog has been written by Russ Thorington, Personal Trainer here at Unique Results.
We are excited to announce that the way we teach kettlebells for beginners is changing.
Why:
Much like 'Pure Strength' we want people to see a progression in their training and learning at UR. Kettlebells is a great example of how a simple tool with good coaching can unlock a whole new range of possibilities with your training.
Not only that, it's good fun to throw a kettlebell about in a controlled and skilled way.
How:
We'll be turning kettlebells for beginners into a more structured class with clear and defined movements and learning each week. It will be a course of 7 weeks covering all the fundamental movements done safely with proper form and technique.
Starting week 1 with a Deadlift and Two hand swing, through the weeks we'll build your confidence in the single arm swing, clean, press, squat, snatch and the Turkish Get Up.
We'll be asking you to sign up for the whole 7 weeks, choosing between a Tuesday or Thursday evening.
At the end of the 7 weeks will be an informal test class which will involve hitting a certain standard set out in the beginning which we'd like you to work towards, some of which you're probably capable of doing already.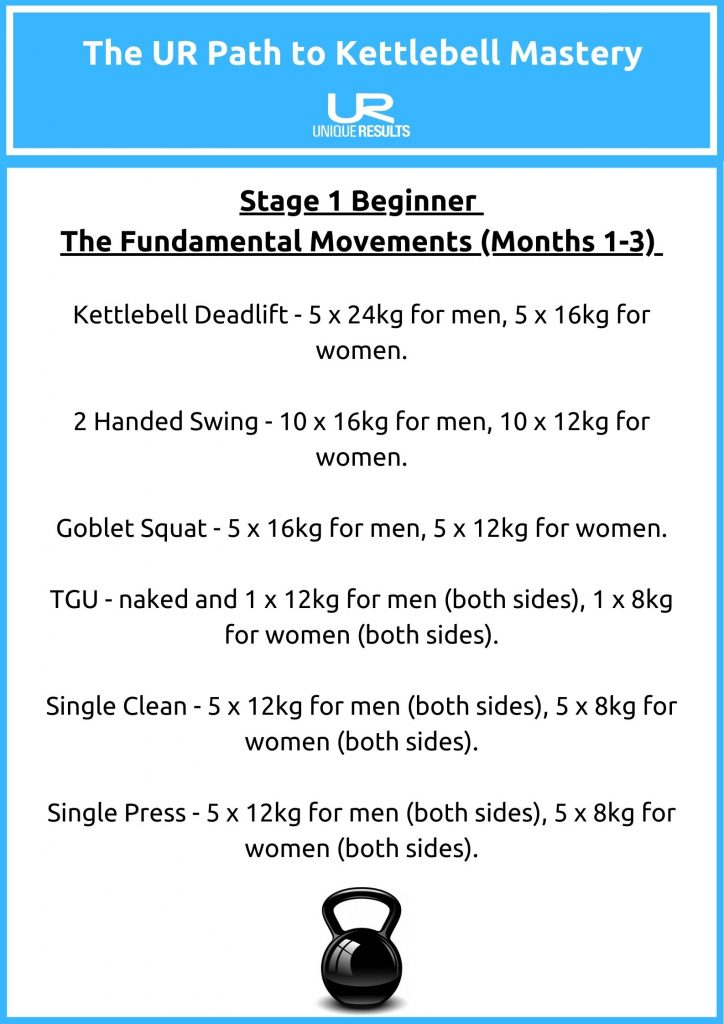 We'll also be releasing via the Quoox app videos of the exercises so that you can go away and practice at home or at UR.
When:
The course will start on the Tuesday 3rd of November and Thursday 5th November and will take you all the way through to the 15th of December and 17th December, so you can ask Santa for a kettlebell for Christmas.
This is only open to Unique Results members at the moment, although we are busy working on creating an online course which will be available to non members, so watch this space.
Yours in health,
Russ